FutureChem and IASON announce Exclusive License Agreement
Date2020/06/26 14:42
Hit 36
Seoul, KOREA and Graz, AUSTRIA – May 6th, 2020
FutureChem Co., Ltd.and IASON GmbH have the pleasure to jointly announce that the companies have entered into a license agreement to further develop and commercialize FutureChem's F-18 Florastamin, a PET radiopharmaceutical for the diagnosis of prostate cancer.IASON will from now on start developing, promoting and selling F-18 Florastaminin Europe. FutureChem has exclusive commercialization rights outside of Europe.
"This global partnership with IASON is a key step to achieving our goal of broadly developing and commercializing F-18 Florastamin, optimizing the opportunity to benefit patients across prostate cancer inside and outside the Europe., and also building value for our shareholders,"
said Dae Yoon Chi, PhD., CEO of FutureChem.
"I am delighted to establish our partnership with FutureChem and to make available F-18 Florastamin, a PSMA analogue,to patients all across Europe,"
said Mag. Christoph Artner, Founder of IASON. "We believe that F-18 Florastamin will be an important new diagnostic option for patients and further enhances our global oncology pipelines."
About FutureChem Co., Ltd.
FutureChem was founded in 1999 and is headquartered in Seoul, South Korea. The company offers to produce and sells radiopharmaceuticals for diagnosing cancers, and Parkinson's and Alzheimer's diseases; and automation modules and disposable goods, such as disposable cassettes, reagent kits, and Radio-Caps. It also provides peptide-based radiopharmaceuticals for radio-metal chelation and click reaction; linkers for bio-conjugation using copper-free/mediated click reaction; fluorinated compounds; and custom synthesis services, as well as develops and produces precursors and chemicals of positron emission tomography (PET) and single photon emission computed tomography (SPECT) radiopharmaceuticals. In addition, the company is involved in the research and development of radioisotope labeling technology, development of PET radiopharmaceuticals, theranostics, active pharmaceutical ingredients and automation devices, as well as performs government research project and academic-industrial collaboration services.
About IASON GmbH
IASON, headquartered in Graz, Austria was founded by Mag. Christoph Artner – who, until today, remains the company group's sole owner and Managing Director – in 1994 and has its origins in the trade of innovative medical technology products. As a specialist for the production of radioactive pharmaceuticals, IASON helped to bring the method of positron-emission-tomography (PET) to Austria in the late 1990ies.
IASON's core competences lie in the development, production and distribution of radiopharmaceuticals for application in PET. Its USPs are clearly the – currently five– Marketing Authorizations the company holds for its innovative products in up to 15 EU countries. The PET radiopharmaceuticals are produced at two state-of-the-art, company-owned production sites located in Austria and distributed by road and even air logistics to hospitals all across central Europe.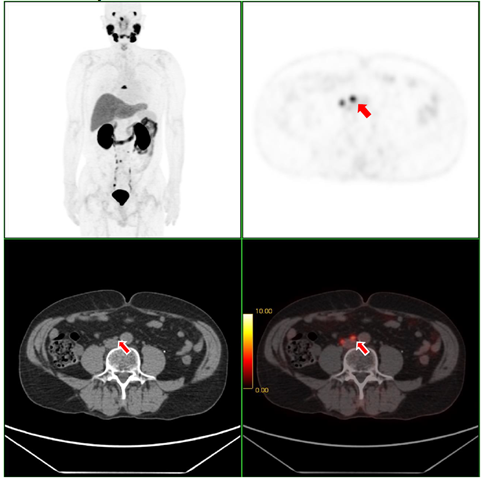 Fig. 1. [F-18]Florastamin PET/CT scan of the patient with prostate cancer and metastasis in the lymph nodes.